My goodness how fast time just keeps flying by! I know I TOTALLY slacked this past year and during my pregnancy >.< but I promise I took lots of pictures... and as soon as Thomas gets our 'Projects' computer up and running I promise I will put them up!
So... obviously the first order of business is that Thomas and I are finally parents! On September 5, we welcomed our beautiful baby girl Chloe-Ann into the world at 6:58 pm. She weighed 8 lbs 2.5 oz and was 21.5 inches long. She is absolutely beautiful (I know I'm biased! I'm not afraid to admit it!). She is such a joy and she amazes us everyday. She keeps growing leaps and bounds and she is just so eager to explore the world around her! From the day she was born she preferred being held upright and she would constantly lift her head up to look around.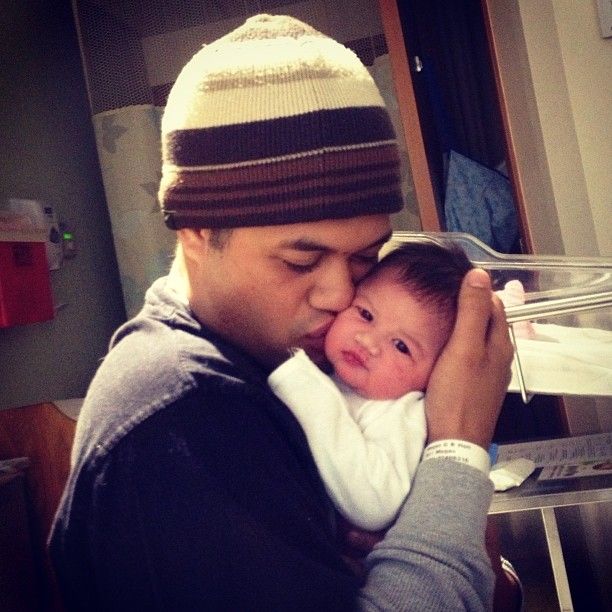 From day 1 Chloe would hold her head up. Proud daddy. <3
It is so bittersweet having a daughter who is so eager to take everything in. On one hand we are so excited and look forward to every milestone she reaches, but at the same time it's so sad that she is growing up so fast! Chloe is a very active baby, before she was two months old she was comfortable on her tummy and would hold her head up to look around. A month and a half later she had figured out how to roll over and was already pushing herself around.
It's so amazing to have a September baby. I feel like she was at the perfect age for her first Christmas. When the holidays rolled around Chloe was about 3 months old and we had fallen into a good routine as a family. We were able to attend all of our family gatherings, and Chloe enjoyed being passed around between all her Aunties, Uncles, Cousins, and grandparents. Thomas' brother got married in the beginning of December and I think she met at least 30+ people in the span of a few hours and she just soaked it all in! She's such a happy baby and as long as all her basic needs are taken care of she can intently observe everything that is going on around her.
This is Chloe experiencing her first Chinese Lion Dance! Chinese Lion Dances are done for good luck and good fortune. They are often seen at the opening of a business, weddings, birthdays, and any other significant and happy occasions.
This was a very memorable holiday season. Chloe is moving around so much and she's beginning to grab and play with objects around her and she got the okay to start eating solids! Poi (a hawaiian root vegetable that is mashed up and mixed up with water) was the first solid food that she tried... and she loved it! I am determined to make most of the food that we give her from scratch at home (more on this endeavor in a later blog post).
Thomas and I are really excited for everything that 2014 has in store for our little family. We have many goals set for this year (I'll be sharing some in the next blog post!) and we have never felt more motivated in our lives. Happy [belated] holidays from us to you!
A Hui Hou